It was just another day in Zootopia.  Where anyone can be anything, right?
Yeah, right.
Not for one poor fox and his son.  The two of them decided to celebrate the little guy's birthday by getting a jumbo pop at Jumbeaux's Cafe.
It may sound strange for a fox family to go to a place that sells elephant-sized popsicles, but Nick Wilde knew how much his son loved elephants (he even wore an adorable costume! Squee!) and just had to give him this one special treat.
Unfortunately, because we can't have nice things, the elephant employee at the counter wasn't having it.
He gave Nick and his son the whole sorry spiel about "the right to refuse service," because, y'know, they were foxes and all.
BUT THEN…one police officer witnessed the incident and put her foot down.
WATCH THE AMAZING FOOTAGE BELOW:
DANG.  Look at that!  She really put that elephant in his place!  Gotta love health code violations, amirite?
The officer, later identified as Judy Hopps, aka the first bunny to ever become a police office (Woo!  Bunny power!) stepped up and oh-so-politely informed the employees that they could get arrested for serving ice cream that they used their BARE TRUNKS to scoop!
Ew.
THEN, because this story can't get heartwarming enough, she paid for the jumbo pop herself when it turned out that the father lost his wallet!  Apparently, when Officer Hopps heard that "anyone can be anything," she went with "incredible role model to everybody everywhere."
Seriously, look at the happiness on this family's face: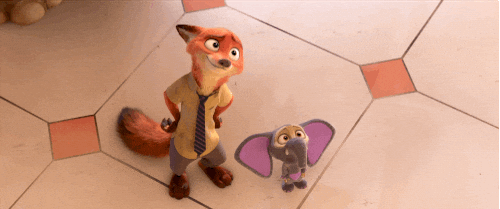 (Gif taken from GIPHY)
ALL THE FEELS.  I CAN'T EVEN.
"You know, it burns me up to see folks with such backwards attitudes towards foxes!"
Us too, Officer Hopps.  Us too.  Faith in animals = restored.
Now go forth and share this amazing story with your hundreds of Facebook friends and Twitter followers, or you are a heartless, predator-hating monster that is everything wrong with Zootopia.  You probably voted for Mayor Lionheart too.
…
Then again, I can't be the only one who gets tired of clickbait articles once in a while, right?  (At least tell me that I wasn't the only one who wondered if I was watching the plot of a Buzzfeed article unfold during this scene.)